News
PM Lars Løkke Rasmussen expresses condolences over deadly bombings at Ataturk Airport in Turkey
---
This article is more than 7 years old.
According to reports, at least 28 have been killed and over 60 injured in the attack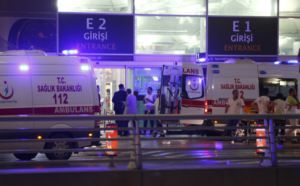 Ataturk Airport in the Turkish capital of  Istanbul was the site of a twin explosion on Tuesday evening, leaving 36 people dead and over 60 injured.
Officials confirmed there were a total of three attackers who detonated suicide devices while under gunfire from police.
Weeping with the Turks
The news quickly reached the heads of state gathered at the emergency EU meeting in Brussels.
The prime minister, Lars Løkke Rasmussen, tweeted out his condolences, saying the Turks had been subjected to a cowardly attack of terrorism.
"I'm crying with the Turkish people who ones [sic] again are witnesses to a cowardly terrorist attack," he wrote.

Meanwhile, the high representative for foreign affairs and security police at the EU, Federica Mogherini, wrote that the EU would stand by Turkey in light of the attacks.