News
Danish teen poised for Rio after record-setting effort
---
This article is more than 7 years old.
Anna Emilie Møller destroys national record for third time in two months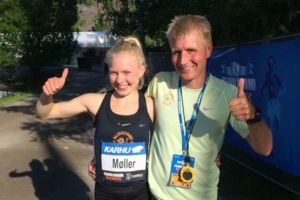 Danish teenager Anna Emilie Møller was expecting to take in the 2016 Olympic Games in Rio this summer from the comfort of her sofa. Now, she can begin packing her bags for Brazil.
The 18-year-old smashed her own national record in the 3,000 metre steeplechase at the Paavo Nurmi Games in Turku, Finland on Tuesday with a time of 9:41.42 minutes, easily inside the Olympic qualification time of 9:45.00 minutes.
"I was bit scared and nervous at the start of the race, but after two circuits I got into a rhythm," said Møller.
"During the last part of the race I thought: 'I just need to make it safely to the finish line.'"
READ MORE: Danish Olympic swimming team finalised
Record demolisher
Møller's time was good enough for third in the race, just 20 hundredths of a second behind the runner-up, and it's the third time she has broken the Danish record this year. And the record-smashing has been comprehensive.
After setting her first record time of 10:03.15 minutes on May 28, she bettered it by over 12 seconds just two weeks later with a time of 9:50.34 minutes. Now another nine seconds has been shaved off.
Møller hasn't officially been called up to the Olympic squad, but that invite is in the mail and she can look forward to becoming Denmark's seventh track and field athlete called up for Rio.
Sara Slott Petersen, Andreas Bube, Stina Troest, Abdi Ulad, Anna Holm Baumeister and Jessica Draskau-Petersson are the other six.