Things to do
Roskilde 2016 Review: AURORA
---
This article is more than 7 years old.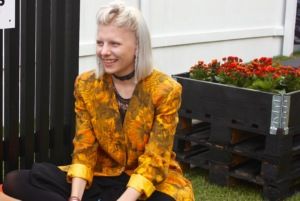 Just over one year ago, this Norwegian 20-year-old artist was featured in the line-up for SPOT Festival in Aarhus, a showcase for emerging Nordic talents. Yesterday, AURORA sang in front of a large, cheering crowd who enthusiastically sang along to her songs at Roskilde Festival.
Not to mention, she also performed in front of 18,000 at Glastonbury last week, Europe's biggest and most popular music festival.
At yesterday's performance, which lasted around 45 minutes, the singer chose her most upbeat and festival-friendly tunes. Her biggest hits 'Conqueror' and 'Running with the Wolves', which saw the artist energetically dancing along to her beats, were widely enjoyed by her fans.
"As we're at a festival, we have to adapt a bit and skip the very sad songs," Aurora told the Copenhagen Post before her performance yesterday afternoon. "But it's always a struggle for me as most of the songs on my record are sad.!
When performing her latest single 'I went too far', a slow yet upbeat tune, Aurora impressed the crowd with her distinctive voice.
The singer's debut album, All my Demons greeting me as a friend, was released in March, after being kept on hold since September 2015. The artist revealed to the CP that she's excitingly working on her second album, which portrays a "different and grown up" Aurora.  
"The success is growing uncontrollably," said Aurora when asked about her life since the release of her debut album. "There are so many things happening to me that I can't even see"
"At the moment, it feels like I'm a small kite flying in a hurricane. And I'm loving it."