Things to do
Roskilde 2016 Review: Elle King
---
This article is more than 7 years old.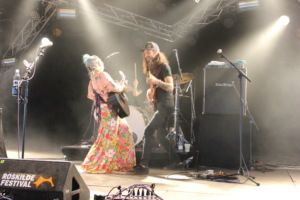 A rising American star who has remained true to her roots, Elle King is the most likeable of rouges. And despite a case of the sniffles, the rock 'n' roller delivered pitch-perfect vocals and a breezy charm.
King has a story for almost every song, each tale greeted with raucous laugh or a sympathetic groan from her audience. The charming Ohio native's conversational tone endeared her instantaneously to the crowd, and her friendly demeanour belied the gritty storytelling and stunning voice that was to come.
I would challenge anyone who heard King's vocals to spot a note out of key. It was one of those rare performances, when it is okay to sound like the vocal on the album. In fact, at times, King topped the originals, adding an extra flourish as and when she wanted, much to the surprise of even her band. Instead she smashed her way through the set list-like a younger, but even more capable Dolly Parton.
What made this performance even more remarkable was that the star of the show was feeling sick. Whereas most artists would have been much more worse for wear, or not appeared at all, King took it all in her stride, including an attack of the sniffles.
And as it turns out, King has a strong Danish connection. She quit college due to a strapping Dane, following him to Copenhagen – where she lived in Christiania on a boat until being forced to leave. As a result one of her more subdued ballads was written, 'Good to be a Man', and it ended up being the track that got her signed. The rest, like that boat in the freetown, is history.
Whilst understandably not quite at her best, King still treated the crowd to a performance encompassing blues, rock, folk and pop. And judging by the response, she will be delighting crowds for years to come.