Things to do
Roskilde 2016 Review : Meet Whitney
---
This article is more than 7 years old.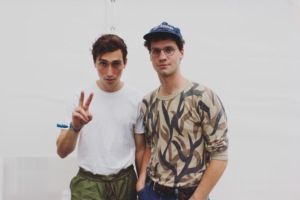 "This was by far one of the best shows we have ever played at," said drummer and lead singer Julien Erlich while relaxing at the festival's artists lounge with a bottle of wine. "The crowd was very receptive and the clapping was incessant. This is something I have never seen before in any band I've played in."
Chicago-based band Whitney were thrilled after their performance in front of over two thousand people at Roskilde's Pavilion stage yesterday afternoon. After the Netherlands' 'Down The Rabbit Hole' last week, Roskilde was the second major music festival the band played at since they started performing together.
"Me and Julien met on the road in our late teens and had a decent amount of mutual friends", said Max Kakacek, who played in the indie-rock band Smith Westerns until 2014, "Julien used to be part of rock band Unknown Mortal Orchestra. We ended up living together, and started building Whitney in roughly six months."
Foundation set in emotion
The band describes their genre as country-soul, with influences from older singers and songwriters. Julien mentioned soul singer Sam Cooke as his biggest music inspiration. Their debut album 'Light Upon the Lake' was released in June and the first single 'No Woman', an original-sounding country ballad, received worldwide attention.
Julien happens to be both the lead singer and the band's drummer, something one is not often accustomed to seeing at live performances. "We noticed that not many bands do that in Europe", Julien told the Copenhagen Post, "In my previous band, I used to be drummer and backup singer. But you know, you can do anything if you put your mind to it".
The band describes their debut album's tracks as being mostly about heartbreaks, and both band members Max and Julien recall going through the same emotional struggles when working on their record. "It worked out well that we were going through tough breakups, it made our songs highly collaborative" said Julien.
'Whitney' as a third-person inspiration
Interestingly, the name 'Whitney' is the result of an abstract and peculiar musical research. Nothing to do with America's famous 'I will always love you' singer, the band chose its name in their search for a 'character' to follow when exploring new sounds. Julien described how the name Whitney would accompany their search for their musical identity.
"It all happened when I was just coming to terms with being a singer and started finding my voice, and we knew our music would sound slightly androgynous" the drummer explained, "we created some sort of a character and used the 'Whitney' third person perspective to guide us in the writing process".
The band is heading back to their hometown Chicago for a two-week break before touring the US and performing at late-summer festivals around Europe.