News
Three more young Danish women feared to have left country to join the Islamic State
---
This article is more than 7 years old.
Reportedly radicalised women headed to Syria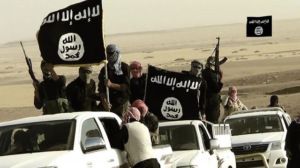 Three young Danish women from Ishøj have disappeared and their parents fear that they have left Denmark to join the Islamic State (IS) in Syria. The three women – one Danish/Kurdish and two ethnic Danes are 21, 18 and 18-years old respectively. The girls have not been heard from in nearly two weeks.
The Danish father of the Danish/Kurdish woman said that he fears that his daughter may be on her way to join IS.
"I hope not," the father, who wishes to remain anonymous for reasons of security, told TV2 News. "They may abuse her."
The father is headed to Istanbul to see if he can find his daughter.
"I have not slept. My wife has not slept. We are very frightened," he said.
Searching Turkey
Another Danish father recently appeared on Turkish television to ask for help in finding his 19 and 24-year-old daughters that he has not heard from in over a month.
He also fears that his daughters are on their way to join IS, and, like the three young women from Ishøj, his daughters are alleged to have been recruited from Brøndby Strand, where, according to the Danish/Kurdish politician Ibis Tas, girls as young as 14-years-old are being actively recruited.
"It is a big problem," he told TV2.
Actively recruiting
Reports say that as many as eight women may have left Denmark to join IS in recent months.
"In the last eighteen months IS has been recruiting families and friends to head south, not necessarily to fight, but to live in a caliphate, which they believe in," said Tas.
READ MORE: Danish women taking their children along to join Islamic State
The Danish/Kurdish father said that neither his daughter nor the family in general had ever been particularly religious. She became more radicalised after marrying a Kurdish man who joined IS shortly after the wedding.
"I was shocked," he said. "The whole family was shocked. She was a normal, happy open girl."