News
Asian Development Bank assisting renovation of 400-year-old Danish fort in India
---
This article is more than 7 years old.
Heritage structure nearing completion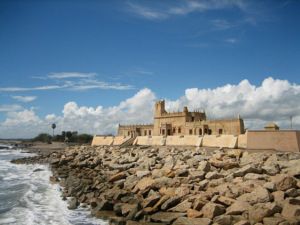 Fort Dansborg, a 400-year-old Danish fort in Tarangambadi in the Nagapattinam district in India, is undergoing a renovation.
The archaeological department of the state of  Tamil Nadu in India has undertaken the project as both a conservation and  tourism promotion effort.
The Asian Development Bank supplied funds as part of efforts aimed at environmentally and culturally sustainable and socially inclusive tourism development.
Pounding sand
The Dansborg renovation work is being guided by experienced architects under the supervision of the officials of the archaeology department.
Care has been taken to use traditional building material like limestone, river sand and plant extracts in the renovation work to maintain the fort's historical quality.
Fort Dansborg was built on the Bay of Bengal in 1620 when Tarangambadi was Denmark's chief overseas settlement.