General
Good evening, Vietnam!
---
This article is more than 7 years old.
Get your pho fix at Bonjour Vietnam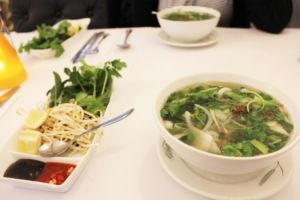 You'll find Bonjour Vietnam tucked away in a quiet corner of the theatre arcade. Its immaculate outdoor tablespreads and bright interiors beckon to theatre-goers and passers-by. It's a far cry from its former incarnation as a fitness centre.
The restaurant's French influence harks back to the mid-19th century when France colonised the Indochina Peninsula. The restaurant's co-owner, Quynh Tran, originates from a French town in Nam Định, which also happens to be the same region that the Pho noodle soup derives from – a dish heavily celebrated at Bonjour Vietnam.
Aromatic Pho soup
Their menu is detailed and expansive, so there are reams of dishes to choose from. But if you're looking to get your pho fix, then this is the place for it. Bonjour Vietnam is run by a mother-daughter duo, Loan Nguyen and Quynh Tran, who have more than 30 years experience as chefs back in Vietnam, so it's unsurprising that they relish the opportunity to serve their national dish in Denmark, their surrogate home.
When the steaming bowl of pho arrived – garnished with beef tenderloin, vegetables and fresh green herbs – the soothing aromatic smell of the spiced broth wafted up like tendrils. In the north of Vietnam, pho is not typically served with a lot of trimmings, the broth is the focal point. Whereas in the south of the country, you gradually add the extras – the bean sprouts, cilantro, and mint herbs – dependant on your preference. I started with the northern variety and proceeded south.
Perfect pre-show meal
The main courses – sizzling veal fillet served up on a hot cast iron skillet and fried chicken with a range of vegetables, spring onions and garlic – weren't hugely flavoursome and the meat was a little overdone.  But there wasn't a lot of time to ponder this as the fourth and final dish was soon whisked from the kitchen, a Vietnamese sweet dessert of yoghurt served with fresh summer fruits – a welcomed treat to complete this meal of epic proportions.
All in all, the place is cosy and accommodating. So if you're out looking for a pre-show meal, Bonjour Vietnam's reasonable prices and authentic tastes make it a natural choice.