News
Refugee children being sent directly to Danish schools – regardless of language ability
---
This article is more than 7 years old.
Kids with no Danish skills are being put in regular classes by municipalities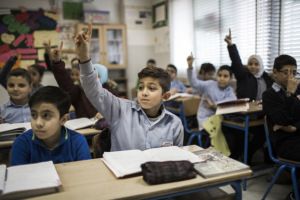 As Danish schools reopened today, several classrooms welcomed new students that do not speak Danish as several municipalities sent refugees directly into regular school classes.
A survey carried out by TV2 revealed that 23 of the 75 municipalities polled said that some or all of their refugees would be sent directly to regular school classes.
In most cases, they will be offered language training and other services first.
The survey failed to elicit a response from 23 of the country's 98 municipalities.
Too much, too soon
Both Danmarks Lærerforening, the Danish teachers' union, and some of the political parties' spokespeople on education are sceptical about having refugee children funneled directly into a Danish classroom without having introductory classes first.
"In all cases, it will mean students who do not speak Danish will require extra attention that will take time from the other students," Dorte Lange, the vice president at Danmarks Lærerforening, told TV2 News.
Socialdemokraterne's education spokesperson, Annette Lind, also expressed concern.
"Students with no language skills require special training before starting in a normal class," said Lind. "They should start in a remedial class and then gradually be placed in regular classrooms."
"An extraordinary situation"
Local municipalities have been granted permission to develop special educational programs outside of the Education Act, and Lind encourages municipalities to take advantage of the opportunity.
"We are in an extraordinary situation, so I can understand that the municipalities are trying to find solutions," said Lind. "But it is necessary that the students receive training before they start elementary school."
READ MORE: Refugee kids breathing new life into Danish rural areas
Ellen Trane Nørby, the education minister, said that "language is essential to successful integration", and that "municipalities are obliged to ensure children receive the necessary language support, whether they are placed in a reception class or an ordinary class."
Not a savings plan
Municipalities organisation Kommunernes Landsforening (KL) estimates that this year alone about 6,000 refugee children will enter public schools across Denmark.
KL told TV2 that sending refugee children directly to public schools was not being done in an effort to save money.