News
2016 Olympics update: Wozzy knocked out
---
This article is more than 7 years old.
Denmark narrowly misses out on second medal in the Olympic pool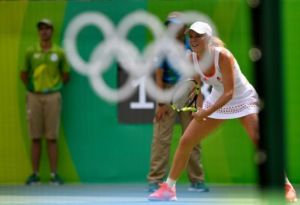 It was a rough day for the Danish team in Rio as their flag-bearer Caroline Wozniacki was knocked out and the swimming team was literally inches away from securing Denmark's second medal.
Wozniacki couldn't get the upset against the Czech two-time Wimbledon champion Petra Kvitova in the second round, losing in straight sets 2-6, 4-6.
In the Olympic pools, Mie Ø Nielsen came tantalisingly close to winning Denmark's second medal of the games in the 100m backstroke, finishing fifth in the final. In a tight contest, Nielsen was just 0.04 seconds off third equal and 0.05 seconds off second place.
Viktor Bromer finished seventh overall in the men's 200m butterfly semi-finals, which was good enough to see him through to the final.
READ MORE: 2016 Olympics update: Solid Sunday for the Danes in Rio
Rower's delight
It was a mixed bag of nuts for the rowers with Nina Hollensen and Lisbet Jakobsen missing the cut in the women's doubles after finishing last in their repechage  .
Anne Lolk and Juliane Elander made the semi-finals in the women's lightweight double sculls, while 2012 gold medallists Mads Rasmussen and Rasmus Quist will have to row in the repechage after finishing third in their men's lightweight double sculls heat.
Elsewhere, Lærke Rasmussen and Anne Dsane looked strong in the semi-finals of the women's coxless pairs, finishing second.
Choppy waters
In sailing, Michael Hansen currently sits 13th in the men's laser after the first two races thanks to finishing 6th and 24th, while Anne-Marie Rindom is currently third in the women's laser radial after finishing 5th and 9th in her first two races.
In windsurfing, Sebastian Fleischer is 12th after the first three races saw him finish 15th, 14th, and 9th. And in the women's event, Lærke Buhl-Hansen is 19th in the women's windsurfing after finishing 17th, 16th, and 17th.