News
Danish Crown Princess Mary criticised for giving free Lego to Brazilian school kids
---
This article is more than 7 years old.
Relationship between Royal House and toy manufacturer "too cosy" some charge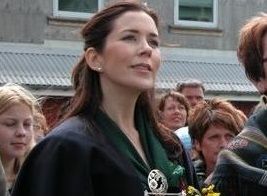 Danish Crown Princess Mary is in Rio, enjoying the Olympics and promoting all things Danish.
But some say the princess, along with the rest of the Danish Royal Family, may be spending a bit too much time promoting one particular Danish icon: Lego.
Princess's priceless promotion
During one of her official Olympic visits, Mary handed out boxes of Lego to  Brazilian school students.
And it hasn't gone down well with some of the royal 'experts' out there.
"It is the kind of advertising that cannot be bought at any price," Søren Jakobsen, the author of several books about the upper classes, told BT.
According to Jakobsen, the Royal Family has paid three private visits to Legoland and been involved in activities that included Lego nine times over the past three years.
"It might be okay once, but not when it happens all the time," he said. "There is no other company that has received more royal notice than Lego within the last five years."
A royal family affair
Christoph Ellersgaard, the author of the book 'Magteliten' (the ruling elite), said the relationship between the royals and the Kirks, the family who own Lego, is perhaps a bit too cosy.
"They are one of the few industrial  families in Denmark who have become part of the Royal Family's inner circle. It's not only a business relationship –they are close friends," Ellersgaard told BT.
The Crown Princess's own fund, the Mary Foundation, was generated with support from the Lego Fund and annually receives support from the Ole Kirk Foundation.
"When the Royal Family gives attention to Lego products, it happens in an official capacity," said Ellersgaard.
Only natural
Lene Balleby, the communications officer for the Danish Royal House, said it is natural for the Royal Family to promote Danish businesses during state visits.
"Royal household members perceive it as normal to assist Danish businesses in both state visits and official trade promotions abroad," said Balleby.
Ellersgaard agreed that one of the reasons for having a Royal Family at all was to promote Denmark around the world, but worried that "evidence suggests it is the Royal Family's personal friendships and the gifts they receive that has a bearing on what companies are selected".
READ MORE: Lego builds massive Olympic City model
Lego communications manager, Kathrine Bisgaard Vase, did not get drawn into the squabble, simply stating to BT that Lego is "always pleased when members of the Royal Family attend events that are related to our business or product".