News
Danish company wants to put 'insect snacks' in your local grocery
---
This article is more than 7 years old.
Your next savoury snack? Chilli larvae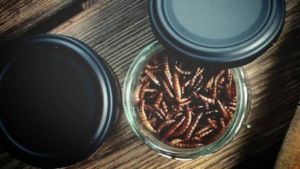 Stand back, crisps. Move over, peanuts. Insect snacks are set to be the next big thing.
The Danish company Enorm is looking to change the way people think about snack foods.
Owner Lasse Hinrichsen recently presented some of his new ideas at his company's 'vision day' at Agro Food Park in Skejby.
One of the items on the menu? Chilli larvae…
"They come in two varieties," Hinrichsen told DR Nyheder.
"Chilli, and sour cream and onion. They go really well with wine or a good beer."
Worming their way in
Hinrichsen larvae are a source of protein and sustainable alternative to the way we eat today.
"There are more and more people on the planet, and if we are to continue to produce animal proteins to feed the whole world, we must begin to look in new directions – and insects can be a new source."
READ MORE: Out and About: Happier eating insects? We learned more at TEDx
Agro Food Park director Bjarne Riis Lansdale said part of his mission is to support those small businesses with unique ideas.