News
Summer temperatures to return to Denmark on Wednesday
---
This article is more than 7 years old.
Warm weather should return for several days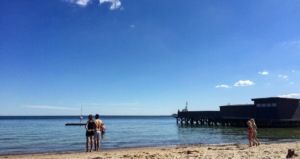 This summer, one of the worst in living memory, isn't going down without a fight!
From Tuesday August 23, warm air will start coming in from the south, and by Thursday the entire country will be basking in temperatures as high as 28 degrees Celsius.
Summer is NOT running!
DMI's duty meteorologist Dan Nilsvall was a little cautious when asked by Ekstra Bladet for promises, although he did say with 'Games of Thrones' certainty that "summer is not over yet".
"Tuesday, Wednesday and Thursday could be warm with temperatures between 20 and 25 degrees – as high as 28 on Thursday," he added. "It will primarily be in southeast Denmark that the highest temperatures will come."
However, the DMI website paints a more positive prognosis, promising 27 degrees for the entire country on Thursday with the exception of the capital region (26) and Bornholm (24).
Possible heatwave to conclude August
And then its 7-15 day prognosis predicts a further five days of temperatures hovering around the 25-degree mark with little rain – what's commonly know in these parts as a heatwave.