News
Danish particle therapy cancer patients to be treated in Sweden instead of the US
---
This article is more than 7 years old.
Shorter, less taxing trip across the Øresund preferable to Atlantic option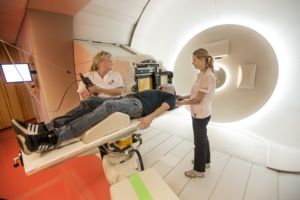 Cancer patients in the Capital Region now have a shorter distance to travel for radiation treatment using particle therapy.
The Capital Region has signed an agreement with Region Skåne to send cancer patients to Sweden's Skandionkliniken in Uppsala. Previously, Danish patients had been sent to the United States.
"It is very gratifying we now have the agreement in place," Sophie Hæstorp Andersen, the regional chairman of the Capital Region, told News Øresund.
"It will naturally mean much shorter journey times, less stress and a better examination framework now they only have to cross the Øresund and not the Atlantic."
More help for more patients
Previously, about 20 patients a year were sent to the US for treatment. The hope is the new arrangement will allow more patients to be treated. The cost of the treatment is lower in Uppsala than in the US.
Skandionkliniken now has the capacity to receive 1,000 patients per year with the option to increase the capacity to 2,500 patients.
"Among the patients who may benefit from the treatment in Sweden are some of the most vulnerable we have, including children," said Andersen.
Particle therapy is used to treat patients whose tumours are located close to sensitive organs, and in the treatment of children with cancer to prevent the risk of tumours later in life. The treatment is considered more efficient and gentle because it can be more accurately focused, causing less damage to surrounding tissue.
READ MORE: Some cancer sufferers still waiting too long for treatment
A similar linear accelerator to Skandionkliniken will be built in Aarhus and should be ready in 2018.