News
Denmark eyeing closer bonds with Bangladesh
---
This article is more than 7 years old.
Foreign Minister Kristian Jensen sees great potential in stepping up co-operation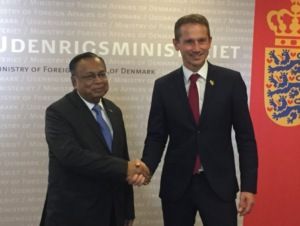 In a bid to strengthen relations between Denmark and Bangladesh, the Danish foreign minister, Kristian Jensen, hosted his Bangladeshi counterpart, Abul Hassan Mahmood Ali, in Copenhagen today.
The two discussed continuing the close bonds within green growth, climate change, development, trade, investment and the fight against terrorism.
"I expressed solidarity with Bangladesh's battle against terrorism and violent extremism," said Jensen.
"And I highlighted the need to defend basic human rights, including the protection of minorities and the safeguarding of the freedom of speech. I made it clear we want to support the Bangladeshi fight against radicalisation and violent extremism via our development program in the nation."
READ MORE: Danish Foreign Minister condemns terror attack in Bangladesh
New agreement
In recent years, Bangladesh has experienced a string of violent and deadly attacks by extremists, including the recent hostage situation that left 20 dead at a restaurant in the capital of Dhaka.
Another strategic goal of the meeting was to focus on improving safety measures in the business and health sectors in Bangladesh – particularly the clothing and textile industry.
During his stay in Denmark, Ali will also meet with a number of Danish companies.
Recently, the two nations agreed to another three-year agreement regarding strategic sector co-operation and a new five-year agreement concerning development co-operation.