News
Danish neighbourhood searches for the best shawarma
---
This article is more than 7 years old.
For the fourth year, the search goes on for Nørrebro's best meat, bread and spices combo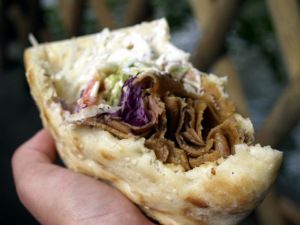 Coming up this Saturday the streets of Nørrebro will be filled with people tasting and testing samples from the 15 local restaurants in the running to be named the neighbourhood's shawarma master.
Those looking to get in on the tasting need to have one of the 750 paper ballots that will be handed out at 12 noon on Saturday at Fyensgade by Nørrebro's Runddelon. The ballots are handed out on a first come, first served basis, so organisers advised potential taste testers to get there early.
A hot time
This year there are three routes with 250 tasters at each: Route one covers outer Nørrebro, route two, inner Nørrebro and route three, the cycle route across Nørrebro.
A panel of experts will join the street tasters in assessing each restaurant on the quality of its shawarma, the condiments, bread, the atmosphere of the restaurant and, of course, the kickass-ness of the chilli!
There is a full day of activities planned, along with free samples of beer, Maté Maté and other food and drink. Information on the music and other activities planned for the day can be found here.