News
Denmark condemns attack on aid convoy in Syria
---
This article is more than 7 years old.
31-truck humanitarian convoy bombed by unknown attacker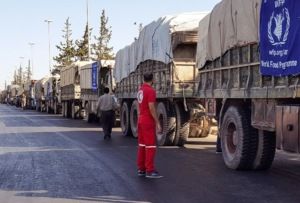 The foreign minister, Kristian Jensen, has condemned the attack on the UN-Red Crescent aid convey just west of Aleppo yesterday.
The 31-truck humanitarian convoy was reportedly bombed in five air strikes as it was unloading its aid cargo in the Syrian town of Urm al-Kubra. According to the UN, 18 of the trucks were hit and several of the aid workers were critically injured.
"The attack was a completely unacceptable breach of the laws of war and all humanitarian principles," said Jensen.
"Attacks on aid convoys makes it even more difficult to bring food, water, medicine and other aid to an already suffering population."
READ MORE: More Danish aid heading for Sudan and South Sudan
Aid for thousands
Jensen contended that it was imperative that the Syrian government immediately guaranteed humanitarian access to a Syrian civilian population that has now endured six years of war.
The attacked convey was carrying aid for some 78,000 people stranded in the area.
No group has yet taken responsibility for the attack.