News
Denmark's Social Democrats adopt a new old name
---
This article is more than 7 years old.
Mette Frederiksen's party will again be called Socialdemokratiet, its name until 2002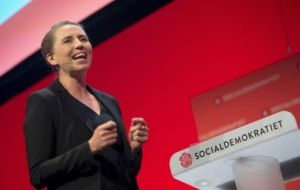 Was 'Socialdemokraterne' the longest single-word name of any political party in the world?
Probably! But trivial records aren't much of a concern to Mette Frederiksen's party, which used its party congress in Aalborg (September 23-25) to confirm it will resume calling itself 'Socialdemokratiet', its name until 2002.
And besides, it is only one letter shorter!
145-year history
The name change, which requires no official party authorisation, was a parting gift from former leader Poul Nyrup Rasmussen before he handed over the reins of power to Mogens Lykketoft.
And for a while it had looked like there might be a curse until Helle Thorning-Schmidt won the general election in 2011.
"It's got to the point when we would like to highlight that we are the Socialdemokratiet party with a 145-year history," party secretary Jan Juul Christensen was quoted as saying by DR.
End of an era?
There had already been signs that Frederiksen favoured the new name since replacing Thorning-Schmidt, but Christensen denied the party was seeking to draw a line under the former leader's era.
"We hope to send the signal we are a strong party who throughout history have fought to create a more equal and just society," he said.