News
Metallica to open new Royal Arena venue
---
This article is more than 7 years old.
Tickets go on sale tomorrow morning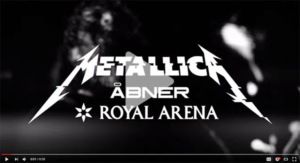 Headbangers and metalheads unite! Copenhagen's newest multi-arena Royal Arena is set to open up in rock n' roll glory and style.
The iconic band Metallica will play two concerts on February 3 and 5 to celebrate the opening of the spanking brand new arena in Ørestaden.
The band is ready with their tenth and latest album 'Hardwired … To Self-Destruct' on November 18 – their first since 2008.
READ MORE: Royal Arena set to open in 2016
Tickets at 10
Tickets go on sale tomorrow morning at 10:00. Purchases are limited to a maximum of four tickets per person.
The Royal Arena, designed by 3XN architects, will have a maximum capacity of about 16,000 people. It is located in Ørestad between Copenhagen Airport and City Hall.