News
Our new man in Copenhagen – the new British ambassador speaks to CPH POST
---
This article is more than 7 years old.
Dominic Schroeder has been learning the language and is settling in quickly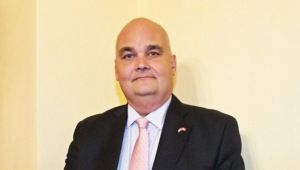 It might be argued that relations between the United Kingdom and Denmark were first truly formalised when the English nobles recognised King Canute as king of all England on 6 January 1017, thus bringing to a conclusion the period of Viking raiding and conquest that had been going on sporadically since 793.
Ever since, there have been beneficially mutual contacts between the two countries, and perhaps it is no coincidence that Shakespeare set one of his best-loved plays in Denmark.
On September 13 this year, Dominic Schroeder formally presented his credentials and became the new ambassador of the United Kingdom to Denmark.
And then on Wednesday, the ambassador kindly made space in his calendar to speak to the Copenhagen Post.
---
Ambassador, could you tell me a little about your background and previous postings?
I've been in the diplomatic service for about 29 years now and have served in a number of places as diverse as Zaire, New York and briefly in Iran. Recently, my postings have been in Europe. I've been in Berlin twice, most recently as head of our mission. I served briefly as head of our mission in Slovakia. I've also been with Organization for Security and Co-operation in Europe in Vienna. I've done a mix of jobs, very varied, and frankly, I've enjoyed them all. I'm married and I'm here with my wife and two children, who are, as far as I can tell, equally delighted to be here. My wife has bought herself a bike and is into the Danish cycle culture and enjoying it very much. My kids are both at an international school here.
I know you've only been here a short while, but what is your impression of Denmark and the Danes in general?
Entirely positive! And I say that absolutely honestly and straightforwardly and not just because I'm the British ambassador. The welcome has been very warm and we've had something of an Indian summer. We've enjoyed exploring Copenhagen. We've visited friends in that fantastic institution, the Danish summerhouse, along the coast in Zealand. In my early days I've also been able to visit Jutland. And frankly, I've also enjoyed using my Danish. I spent a bit of time learning the language before I came here and it's very gratifying to me to see that people have reacted positively and have been rather surprised at my Danish abilities. I've also made a Facebook video in Danish, which seems to have gone down well – so utterly positive.
As you can imagine, Brexit is a topic uppermost in many of our readers' minds. A lot of us were unhappy that we were unable to vote in the referendum and feel somewhat left in the lurch. So far, everything we've heard about Brexit seems to be geared to reassuring business and industry so that trade can carry on as normal. Can you give me any pointers as to the government's strategy for UK citizens living in Denmark and what is being done to look after their interests?
It would be wrong of me to pretend that the result of the referendum on 24 June hasn't led to a high degree of uncertainty, and I recognise that a considerable amount of that uncertainty is felt by UK nationals in Denmark. We are going to enter into a negotiation. We haven't started that negotiation yet and the prime minister has made it clear that we will not invoke Article 50 before the end of this year. But as we enter into that negotiation – and I'm not going to start making unilateral negotiating points before we do, because that would be wrong – what I can say is that for me personally, the priority in my job is the maintenance and preservation of the security, welfare and livelihood of British nationals in Denmark. At a larger, higher level, the British government has made it absolutely clear that that emphasis on the security, welfare and livelihood of British nationals throughout the EU is a priority for them too. I can understand why British nationals reading the Copenhagen Post, whether online or on paper, will have concerns over and above that level of reassurance, but at the moment that's as far as I can go. But what I can say is that it is a priority for me personally in terms of how I do the job here in Copenhagen.
That sounds good and that's what I thought you'd have to say really but …
If I can just interrupt you, yes fair enough, it is what I have to say in terms of that is the position, but I can assure you and I can assure your readers that I do take it seriously and I do consider it a personal priority.
I know a lot of people who are applying for dual nationality at the moment as a sort of insurance policy, and I think it is definitely something that people are concerned about, and up to now, the things we've seen have been about the effects on exports and things. People in England seem to forget that there's a lot of British nationals who live outside the country, not only in Denmark, but also in places like Spain. They must be feeling a bit worried too.
I respect that and understand, and as far as I can, I will respond to that 'worry' – to use the word that you've used. On the dual nationality question, as you know, the UK itself recognises dual nationality and people are free to make their own choices. In terms of responding to that worry, I've said as much as I can say, but in recognising, respecting and responding to that worry, I come back also to what I've said, which is that I do see this as a priority. I do know that however people feel – how people feel is important and legitimate and rational – that the interests of British nationals in EU member countries and in Denmark are not an issue of secondary importance to me, nor is it a matter of secondary importance to the British government.
I noticed in an article in the Guardian where an Irish politician said that Article 50 will be triggered some time in January. Is that likely?
The prime minister has made it absolutely clear that we will not be invoking Article 50 before the end of 2016. That's our position and that's what I'd say on it.
How would you describe the relationship between the UK and Denmark?
I think I would describe it as strong, broad, deep and thriving. In a sense, I've got an easy role in pursuing that because it is so strong. Of course it is slightly challenging to add value to a relationship that is as strong as that. It's a relationship that is strong and deep and will continue to be strong and deep –I've absolutely no doubt at all about that – and the stronger and deeper I can contribute to making it, the better.
What would you aim to accomplish as ambassador over the next four or five years? Obviously smoothing out the Brexit process will be a large part of the job, but perhaps you have other goals?
I certainly do have others. There's no getting away from the fact that in the seven or so weeks I've been here, just about every conversation has begun with a conversation about Brexit. But I talked earlier about the depth and strength and breadth of the bi-lateral relationship and a lot of what we're doing here carries on independently of the European Union. We've had a strong trading relationship between Denmark and the UK: not just a trading relationship but also an investment relationship. If you look at the amount of Danish investment into the UK economy, it's absolutely enormous; whether it be through pension funds, whether it be directly through wind energy or renewable energy, it's a particular growth area at the moment. It's hugely important, and I hope we can contribute to growing that investment relationship. There's a very strong defence and security relationship. We co-operate with Denmark very, very strongly and very, very well in that area. There are huge cultural opportunities. I've just mentioned that I was in Jutland last week. I visited Aarhus, the European Capital of Culture in 2017. There's going to be some significant UK involvement in that, and I hope we can use it to further relations and enhance good relations in the cultural area. The political discussions will continue to go on. As my foreign secretary has said, never forget that the UK is leaving the EU but we're not leaving Europe, and the importance of bi-lateral relationships, already strong bi-lateral relationships, will just continue to grow. My function, my aim, my objective, is to work in all of these areas to ensure that the relationship we have is as strong, as deep, as broad as it possibly can be, and again I come back to what I've said: the other thing I want to work on is to ensure the safety, well-being and livelihood of British nationals in Denmark.
Mr Ambassador, thank you very much for your time.