News
Danish ice cream to alleviate morning sickness
---
This article is more than 7 years old.
Midwives already trying to get hold of Skarø's new 'Mother-child' ice cream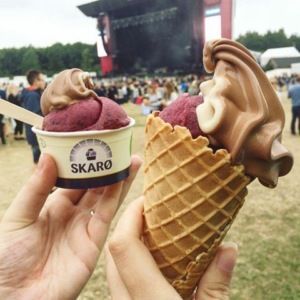 There's some good news for pregnant women who have a sweet tooth, but suffer from morning sickness.
Danish ice cream retailer Skarø has developed 'Mother-child', a specially-designed ice cream that aims to alleviate morning sickness – a condition that affects around 90 percent of women during pregnancy.
"Finding the right taste is a prerequisite for women with morning sickness being able to eat it. The senses of taste and smell become more sensitive in connection with morning sickness," Martin Jørgensen, the head of Skarø Ice Cream, told TV2 News.
"We have added insulin and lactic bacteria to support the digestion and reduce nausea. Furthermore, we've added omega 3, which helps the child's development as well. The ice cream is flavoured with a taste of apple and lemon."
The idea was born earlier this year when Skarø took part in an international gynaecology and obstetrics conference in Helsinki and a doctor approached them for an ice cream for pregnancy nausea for her department in Bergen, Norway.
READ MORE: Danish women experience workplace discrimination in connection with pregnancy
Merry midwives 
Previously, Skarø has been successful in developing protein-rich ice cream for patients who have struggled with nausea and lost appetites while undergoing chemotherapy.
The Mother-child ice cream has already attracted a good deal of interest among midwives in Denmark.
"We have queries on a daily basis from pregnant women who want to get their hands on protein ice cream, so it's fantastic that Skarø is launching this," said Birgit Thalwitzer, the owner of the private clinic Jordemoder.dk.
Jordemoder.dk is currently in negotiations with Skarø concerning purchasing the Mother-child ice cream.