News
Over 100 tombstones in small Jutland cemetery sprayed with graffiti
---
This article is more than 7 years old.
Locals are shaken and saddened by the vandalism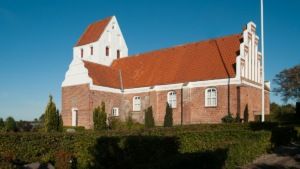 Unknown vandals have sprayed graffiti over 110 tombstones in Visborg Kirke cemetery near the coastal town of Hadsund in northeastern Jutland.
Gitte Jensen, who is responsible for maintaining the cemetery, discovered the vandalism on Wednesday morning when she came to work to prepare the church for a funeral service.
According to the North Jutland Police, the crime took place sometime between 8 pm on Tuesday and 7 am on Wednesday.
There are not yet any suspects in the case.
"People are shaken and saddened by the event," Jensen told Ekstra Bladet. "When something happens to a grave or a gravestone, it affects [people] and impacts one's soul."
READ MORE: New trend in Denmark: living relatives inscribing their names on gravestones
No money for cleaning
The 110 damaged tombstones account for more than half of the graves in the cemetery and they seem to have been selected by the vandals, who used black and cobalt blue spray paint, at random.
Jensen said the parish lacks the necessary funds to have all the tombstones cleaned.
It is the first time such an incident has happened in the Visborg Kirke cemetery, although several cases of graffiti vandalism have been reported in the area.