News
Copenhagen signs co-op agreement with Beirut
---
This article is more than 7 years old.
Paris of the east eyeing Danish expertise on waste management, sustainable solutions and city planning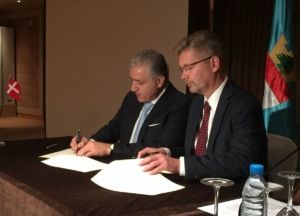 Copenhagen mayor Frank Jensen is heading an official Danish business delegation travelling to Beirut this week to sign a co-operation agreement between the two cities.
The co-operation focuses on assisting Beirut with experience and knowledge in establishing sustainable green solutions.
"Copenhagen is a city which takes global responsibility," said Jensen.
"We are considered one of the greenest and best cities to live in and we want to share our good experiences with a city facing huge challenges. The agreement with Beirut is a unique opportunity to share our sustainable solutions within management, energy and an inclusive city space."
READ MORE: Copenhagen enters into climate co-op with Washington DC
City under pressure
The visit to Beirut will offer up workshops regarding waste management, anti-radicalisation and city planning presented by Danish companies and experts from Copenhagen Municipality.
Beirut and Lebanon has been hit hard by the influx of refugees fleeing the conflict in Syria. The refugees have put further pressure on the challenges the city already faced concerning basic municipal tasks such as waste management and electricity provision.
"In Beirut we want to focus on sustainable city development, including social and cultural efforts and good administrative decisions," said Jamal Itani, the mayor of Beirut.
"We see Copenhagen as a strong co-operation partner as it is a leader within sustainable city development and high quality of life."