General
What's on TV (Oct 14-Nov 3): Probably only a collector's item
---
This article is more than 7 years old.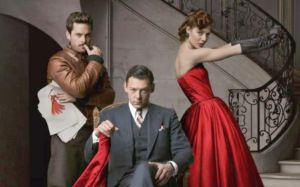 Pick of the Week:
The Collection
SVT 1, Oct 15, 21:30
Containing as much "violence, conspiracy and sleaze as the average big-budget gangster series", according to the Daily Telegraph, The Collection recounts how Paris became the world's centre of fashion following the Nazi occupation during WWII. The Bold and the Beautiful this ain't!
Created by Oliver Goldstick (Ugly Betty, Pretty Little Liars), this eight-part Amazon Studios on-demand series has only scored 6.6 on IMDB – perhaps understandably as dramas about fashion (based on Dior apparently) won't suit everyone's tastes.
Starring the likeable Richard Coyle (Coupling) and Frances de la Tour (not typecast as a female giant this time), the Telegraph found it "lavish, sumptuous" (it's clear where most of the budget was spent)but also "clichéd and bizarrely inconsistent" – particularly the accents.
---
Also New:
With the final US presidential debate approaching, and then the main event itself on November 8, it looks like every Danish channel has reached the same consensus: White House docs and plenty of them!
We've got biodocs: Abraham Lincoln (DRK, Oct 17, 22:35), Reagan (DR2, ep1: Oct 21, 21:40; ep2: Oct 28, 21:35), JFK and LBJ: A Time for Greatness (DRK, Oct 17, 20:00) and FDR in Wheelchair President (DRK, Oct 17, ep1: 18:10; ep2: 20:50).
We've got the past: Black Power: America's Armed Resistance (DR2, Oct 20, 23:05), Reagan's Secret War (DRK, Oct 17, 18:55) and Inside Obama's White House (SVT2, Oct 28, 23:30).
And a dystopian future: America by the numbers special: The New Deciders (DR2, Oct 25, 23:05) and arms dealing doc Shadow World (SVT2, Oct 31, 22:50).
Elsewhere, music fans will enjoy Peter Grimes on the beach (SVT2, Oct 15, 21:10), Janet Joplin: Little Girl Blue (DR2, Oct 24, 23:50) and Goldfrapp: Tales of us (SVT1, Oct 28, 00:35); Fear of flying (DR3, Oct 17, 23.45) and Allergies: Modern Life and Me (DR2, Oct 24, 20:00) will take us to the edge; and Donald Trump will enjoy the Spike Guys Choice Awards (Zulu, Oct 23, 20:55) – he's presenting them next year! (BH)
---
Coming Soon:
We're spoilt for choice for TV drama, comedy and dramedy series thanks to the US right now.
Leading the way is the hilarious Insecure (84 on Metacritic), a disarmingly honest depiction of the lives of two best friends. Issa Rae (The Misadventures of Awkward Black Girl) is a natural in the lead.
Slightly more offbeat perhaps is No Tomorrow (68), a dramedy about a woman who falls for someone who believes the apocalypse is around the corner.
Staying in the realms of scifi, we have Frequency (63), a drama about a detective who can talk to her dead father through a radio, Marvel's Luke Cage (79), a superhero series set in Harlem, Timeless (65), the unlikely tale of a trio traveling through time to protect history as we know it, and mammoth HBO series Westworld (73).
Also worthy of your consideration are naturalistic comedy Easy (72) and Pitch (69), a drama about the first woman to play Major League Baseball. (KL)
---
Sport of the Week:
It's bad timing to launch the NBA season on the day the World Series starts. It's also hard to pick between Barca vs Man City in the CL and Chelsea (TV Sport 2, Oct 23, 16:55) and Liverpool (K6, Oct 17, 19:00) hosting Man U in the EPL, but you can watch all three. Elsewhere, we've got F1's US and Mexican GPs and the continuation of the NHL (TV3 Sport 1 & 2). (BH)
---
Film of the Week:
The story of Paul Potts starring James Corden was never going to be Citizen Kane, and One Chance is lots of fun in places. Likewise Sin City: A Dame to Kill never aspires for greatness – and it's the right approach. The Selfish Giant, meanwhile, is worthy of its name – a British childhood film worthy of being mentioned in the same breath as 'Kes'. (BH)