News
Denmark welcomes appointment of António Guterres as new UN secretary-general
---
This article is more than 7 years old.
The foreign minister, Kristian Jensen, is firmly behind successor of Ban Ki-Moon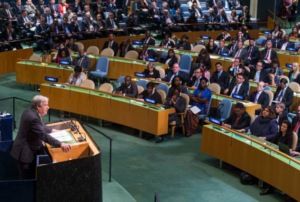 António Guterres, the former prime minister of Portugal, is set to become the ninth UN secretary-general following a vote at the UN General Assembly yesterday.
Denmark is delighted that the former UN high commissioner for refugees will take over from Ban Ki-Moon as of 1 January 2017.
"On behalf of the government, I would like to congratulate António Guterres with his appointment," said the foreign minister, Kristian Jensen.
"This is one of the most important positions in international co-operation, particularly now when the international community is facing huge and difficult challenges: the conflict in Syria, violent extremism, massive refugee and migration flows and the realisation of the new global goals."
READ MORE: Denmark unveils fund aimed at reaching global 2030 goals
Over the Moon
Jensen contended he had faith in Guterres' ability to generate concrete results on behalf of the UN and said he was looking forward to co-operating with him in the coming years.
Guterres' appointment will initially last for five years following the end of the tenure of Ban Ki-Moon, who has filled the position of UN secretary-general since 2007.