News
Denmark praises landmark greenhouse gas agreement
---
This article is more than 7 years old.
197 nations agree to reduce the emissions of the potent hydrofluorocarbons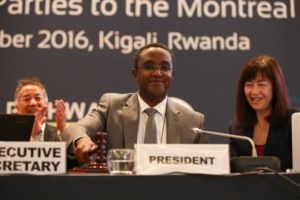 Officials from nearly 200 nations secured a historic deal over the weekend at the 'Meeting of the Parties to Montreal Protocol' in Kigali, Rwanda to reduce the emission of the potent greenhouse gases, hydrofluorocarbons (HFCs).
The Danish official in Kigali, Mikkel Aaman Søren, praised the step that could curb global warming by more than 0.5 degrees by the end of the century.
"The agreement is a huge victory for the environment on a global scale," said Søren.
"Denmark has long been a leader in limiting HFC gases. Over the past 15 years we have reduced the use of HFC gases by almost 70 percent. There is little doubt that Denmark takes the global temperature increases very seriously, and it is essential that the countries of the world have agreed to follow suit."
READ MORE: New grass to reduce cow-burping methane emissions
Cooling the world
The deal is expected to save the environment from about 65 billion tonnes of CO2 looking ahead to 2050, which is over 1,000 times what Denmark emitted in 2014.
The Montreal Protocol aims to protect the ozone layer by phasing out the production and the use of a number of gases – such as HCFC and CFC – which break down the ozone layer.
HFC gases are commonly found in refrigeration and air conditioning units. Driven primarily by the increased demand for cooling in developing nations that have fast-expanding middle classes living in hot climates, they are the world's fastest-growing greenhouse gases.
Under the agreement in Kigali, developing countries will begin phasing out HFC gases by 2019 and completely abolish them by 2028 at the latest.