News
Go clown hunting in Copenhagen
---
This article is more than 7 years old.
Win a cash prize for rounding up the most escaped clowns this Halloween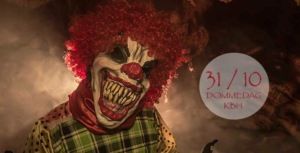 If you suffer from 'coulrophobia' – AKA a fear of clowns – then you might want to steer away from Copenhagen at Halloween this year.
From 22:00 to 05:00 on October 31, some 50 clowns will be on the loose in the city centre as part of a competition in which the public can win prizes for catching as many clowns as possible.
The event could perhaps be considered ill-advised in the wake of the 'killer clown' incidents sweeping across the nation at the moment, but it seems to be gaining popularity. So far over 650 people people have signed up on Facebook to take part and a further 1,800 have expressed an interest in attending.
"We prefer not to see any violence – so no weapons or sharp objects," the organisers wrote.
"But just know that the clowns are not averse to giving you a good scare."
READ MORE: Several 'killer clown' incidents reported in Denmark and Sweden
Clowning around
Every clown has their own number that they will give to their captors. The participants then return the numbers to the event organisers at City Hall Square, Rådhuspladsen. Whoever catches the most clowns can win a cash prize of up to 3,000 kroner.
The clowns will only be loose in the city centre area of Copenhagen: the walking street, Strøget, and the City Hall Square area.
Anyone yearning to be part of the clown group can contact the organisers via the event's Facebook page.