News
Denmark and back again: around the world in 80 seconds
---
This article is more than 7 years old.
A replica of Earth is drumming up interest on the net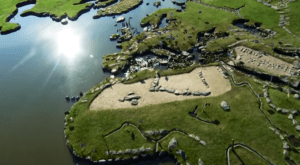 A video clip and photos of a tourist attraction near the town of Hobro in north Jutland are going viral quicker than it would take to circumnavigate the world.
No, not the 80 days managed by Phileas Fogg, but the 80 seconds achieved by visitors to Verdenskort (world map), a flat replica of Earth carved out of man-made islands and water, which has started attracting the attention of international media.
A farmer's vision
Verdenskort was the life's work of Danish-American farmer Soren Poulsen (below), a returning emigrant to the US who started the project in 1944 and continued working on it until his death in 1969 at the age of 81.
He did most of the work himself, using a wheelbarrow or pushcart to carry the necessary earth to make the islands – and on occasion rocks that weighed more than a tonne.
Just rocks
Measuring 45 by 90 metres, the map is made entirely to scale: 1 to 41.1 million to be exact, which means every cm is the equivalent of 41.1 km, reducing Denmark to a short step in distance.
In fact, Denmark didn't even make it onto the many body representing Europe and is represented by three stepping stones.
There's a noticeable passage of water separating Jutland from Germany, which might have had something to do with the ongoing German Occupation when Poulsen started his construction.