News
Cars in Greenland not inspected for 18 years
---
This article is more than 7 years old.
It is still Denmark's responsibility to inspect Greenlandic vehicles, but the checks haven't happened since Napster was new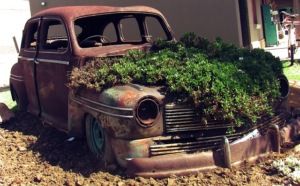 Drivers in Denmark learn to dread getting a notice every couple of years saying that it's time to bring their vehicle in for inspection.
Checking the tyres, lights, rust and other safety features can get expensive.
In Greenland, however, the inspections are less frequent.
In fact, there haven't been any this century!
Still a Danish matter
It has come to the media's attention this week that Greenland did not take over vehicle inspection as part of its responsibilities when it established home rule government in 1999.
"I can confirm that vehicle inspections in Greenland remain a Danish matter, since Greenland has chosen not to repatriate the responsibility," wrote the transport and construction minister, Hans Christian Schmidt, in a reply to Parliament.
"This authorisation has not been used, and periodic surveys of the number of cars in Greenland have not taken place."
Greenlanders not riding along
Schmidt said that the last time Greenlandic vehicles were inspected was in 1999, when four employees from the former Transport Ministry drove around Greenland and inspected vehicles.
According to Danish law, an ordinary passenger car must appear for inspection four years after it is first registered, and then every two years afterwards.
READ MORE: Greenland: A society in peril
Greenland's attempt to establish a similar system through authorised workshops in 2012 failed.
"The Greenlandic employee association Grønlands Arbejdsgiverforening was highly critical of the proposal," said Schmidt.
"In this atmosphere, the Greenlandic minister in charge of transportation chose not to propose the inspection idea to Inatsisartut, the Greenlandic parliament."
Time to talk
At that time, the self-rule government said that it would look for a solution. Schmidt has now said he is going to try to restart the dialogue.