News
Danish winters bring coldness, darkness … and depression
---
This article is more than 7 years old.
The number of depression diagnoses increases by 8 percent in the month following the start of winter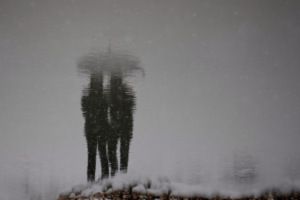 If you've endured a winter in Denmark, you know how brutal it can be – and this year is expected to be worse than usual.
It's not so much the poor weather, which can be abysmal to be sure, but rather the long dark winter months that seem to go on for an eternity.
There's not much to smile about when it's dark as you go to work in the mornings and dark again when you leave the office again to return home. And now there is research to prove it.
A new Danish study entitled 'Daylight savings time transitions and the incidence rate of unipolar depressive episodes' has revealed what most of us here already know: that the transition to winter leads to an increase in depression.
The study, based on a registry of people who have been diagnosed with depression over the past 18 years, revealed that the number of depression diagnoses increased by 8 percent the month after the start of winter.
"It's common knowledge that some people have winter depression over the course of the season, but a jump in the number of cases after the transition to winter is new knowledge," Søren D Østergaard, an associate professor in the Department of Clinical Medicine at Aarhus University Hospital who is one of the researchers behind the study, told Dagens Medicin.
"The transition itself simply has an impact on the risk of depression."
Østergaard explained that during the winter transition, the clocks are set back an hour as part of daylight savings and an hour of daylight is moved from 17:00-18:00 in the afternoon to 07:00-08:00 in the morning, when perhaps fewer people benefit from the daylight.
READ MORE: Cold winter on the way
16 months in Denmark
While the study doesn't provide a definitive answer to the reasons behind the increase in depression, it still unveils relevant knowledge concerning the impact daily rhythms and daylight have on the illness.
"The study should lead to increased awareness about depression in the coming weeks," said Østergaard.
"It will specifically interest people who are susceptible to getting a [unipolar] depression, their family members and the health workers charged with diagnosing and treating depressions."
The study, which is based on 185,419 depression diagnoses from 1995-2012, was undertaken in co-operation with the universities of Aarhus, Copenhagen and Stanford in the US. The study has been published in the scientific journal Epidemiology.
The results come at a good time. The clocks goes back an hour for winter this coming Saturday night.
It's little wonder that the Danish poet Henrik Nordbrandt once wrote: "The year has 16 months: November, December, January, February, March, April, May, June, July, August, September, October, November, November, November, November."