News
Odense honours Haruki Murakami with Hans Christian Andersen award
---
This article is more than 7 years old.
Japanese bestselling author comes to Denmark to receive the prestigious literature prize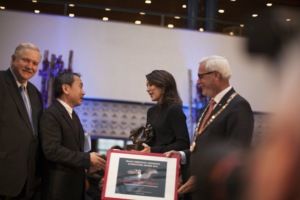 On Sunday, the internationally-renowned Japanese author Haruki Murakami became the fifth recipient of the prestigious Hans Christian Andersen Literature Award.
A royal ceremony
A ceremony at Odense City Hall included performances by the Odense Symphony Orchestra, the Royal Danish Ballet School in Odense, the Danish National Girls Choir, Helene Blum and the Harald Haugaard Band, and Danish actress Ellen Hillingsø, before handing over to the main event itself: the handing over of the award to Murakami by Crown Princess Mary.
On top of the honour, Murakami also received a bronze statuette designed by sculptress Stine Ring Hansen, a diploma entitled 'The Beauty of the Swan' and a check for 500,000 kroner.
The award pays tribute to Hans Christian Andersen's influence on authors all over the world by choosing recipients whose work in some way echoes Andersen's name and life's work. The chosen authors must, as it has been expressed, be at the same "swan level" as Andersen.
READ MORE: Haruki Murakami coming to Denmark
The award committee co-operates with the University of Southern Denmark, whose advisory board chooses the nominations.
Similarities with Andersen
"Murakami's ability to combine everyday reality with the magic of fairy-tales derives from a linguistic mastery that once again makes one think of Hans Christian Andersen. There are images and descriptions of natural scenery, cityscapes and landscapes in Murakami that possess a distinctive poetry," said  committee member Professor Anne-Marie Mai.
"Many parallels can be drawn between Hans Christian Andersen and Haruki Murakami, even though they belong to different cultures and there is more than a century between them."
Born in 1949, Murakami has published more than 10 novels, including '1Q84' (2009) and Norwegian Wood (1987), several collections of short stories and a number of collected essays. His works have been translated into more than 50 languages.
Danish readers first got to know Murakami through the translation of the novel 'A Wild Sheep Chase' in 1996.
Murakami's writing style
Murakami acceptance speech was inspired by Andersen's story 'The Shadow' (1847). He drew comparisons between his and Andersen's work and dug deep into the very essence of creative writing.
"When I write a novel I don't know what's going to happen next in the story. And neither do I know how it's going to end. As I write, I witness what happens next. For me, then, writing a novel is a journey of discovery. Just as children listening to a story eagerly wonder what's going to happen next, I have the same exact feeling of excitement as I write," said Murakami.
"As I read 'The Shadow', the first impression I had was that Andersen too wrote it in order to 'discover' something. Also, I don't think he had an idea at the beginning of how the story was going to end. I get the sense that he had the notion of your shadow leaving you, used that as his starting point to write the story, and wrote it without knowing how it would turn out."
Murakami follows in the footsteps of JK Rowling, Paulo Coelho, Salman Rushdie and Isabel Allende as only the fifth winner of a prize that was first awarded in 2007.