News
Sculptures to remind Denmark of colonial past
---
This article is more than 7 years old.
'Freedom' statue depicts Denmark's use of slavery on the US Virgin islands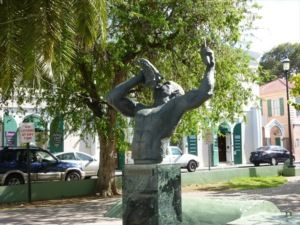 The US Virgin Islands has sent three sculptures to Denmark as a gift to remind the former ruler of the islands of its colonial past.
The sculptures include a copy of the iconic 'Freedom' sculpture that was made in 1998 in celebration of the 150th anniversary of the emancipation of the slaves on the islands, which is located in the Franklin Powell Park in Cruz Bay, St John.
The other two sculptures are busts of  John 'Buddhoe' Gottlieb and D Hamilton Jackson. Gottlieb was instrumental in the islands' quest for emancipation in 1848 and Jackson oversaw the establishment of the first labour union in 1915.
READ MORE: How little old Denmark oversaw territories in India, Africa and the West Indies
Reminder in Copenhagen
The hope is that the 'Freedom' statue is given a permanent public location in Copenhagen – a possibility that Carl Christian Ebbesen, the city's deputy mayor of culture, is optimistic about, as is the minister of culture, Bertel Haarder.
"It's a really good idea to erect such a monument that reminds us of our colonial past, including our past as a slave nation," Haarder told Politiken newspaper.
It would be Denmark's first official monument referring to its use of slavery on the islands or anywhere.
All three sculptures were created by the renowned Ghanaian sculptor Bright Bimpong.