Things to do
November Performance: The Crazy Gang are back!
---
This article is more than 7 years old.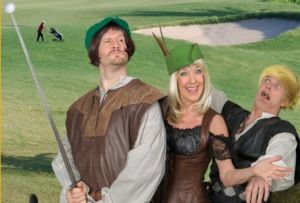 Shakin' Up Sherwood
Nov 5-Jan 12, Mon-Sat 19:30; Tivoli Glassalen, Cph K; 150-375kr, billetlugen.dk
As a regular in the city since the early 1980s, for many the Christmas period wouldn't feel the same without a visit to watch Vivienne McKee and her chums deliver another dose of daft, innuendo-laden cheer.
The Danes have taken McKee to their hearts, and she rewards them with topical gags, returning favourites, interactive horseplay and a rollicking good time. It's a little like panto, but strictly for grown-ups.
In a year in which Britain left Europe, how could McKee resist her country's most famous hero, Robin Hood, who in this adventure will take on a sheriff of Nottingham directing proceedings from Rump Tower.
Teater Tapas
Nov 27, 16:00-20:00; Teaterøen, William Wains Gade 18, Cph K; contact carlos@teateroen.dk to perform
This event invites artists to stage 15-minute performances of any style or genre in English, Danish or without words. November's theme is 'endings'. And yes, tapas are served.
Svante's Happy Day
Dec 6-23, Tue-Fri 20:00, Sat 15:00 & 20:00; Nørrebro Teater, Ravnsborggade 3, Cph N; 100-435kr, nbt.dk
For the final 18 days of its run, this Danish-language poetic comedy about a melancholic man will be performed with English and Arabic subtitles via an app (which can be borrowed).
The Pillars of the Earth
ongoing, ends Dec 4, Wed-Sat 20:00, Fri-Sun matinees; Østre Gasværk Teater, Nyborggade 17, Cph Ø; 125-595kr, gasvaerket.dk
12th century England is the setting for this ambitious Danish three-hour musical adaptation of Ken Follett's historical novel. Watch it with English subtitles via an app.
La Boheme
Nov 5, 9, 11, 13, 16 & 18 at 20:00; Opera House, Ekvipagemestervej 10, Cph K; 125-895kr, kglteater.dk
As one of the world's most popular operas, performances of this Puccini classic never fail to elicit heavy emotion, so bring a spare hankie! Elisabeth Linton is in the director's chair this time.
Giselle
Nov 10 , 12 ,15, 17 & 19 at 20:00; Gamle Scene, Kongens Nytorv 9, Cph K; 95-595kr, kglteater.dk
Silja Schandorff and Nikolaj Hübbe's version tells the intensely dramatic and romantic story with an abstract and modern vernacular, while the set design is inspired by the work of Caspar David Friedrich and Sally Mann.