News
Move over Dundee! Danish backpacker sees the funny side after falling on a croc
---
This article is more than 7 years old.
Unintended trip down a slippery bank could have gone much worse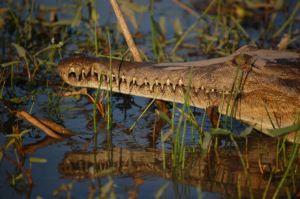 The story of a Danish backpacker who survived falling onto a crocodile in western Australia is steadily doing the rounds across the world.
Either as a last-minute item on the news or a 'how stupid can you get' story, Johnny Bonde, 27, is enjoying his 15 minutes of fame.
Deep cuts to arm
Bonde was at Lake Kununurra in Australia's tropical north late on Friday evening when he spotted a freshwater crocodile in the water and stepped up on a bank to take its picture.
"Next thing I know, I'm sliding down the bank and landing straight on top of the croc," Bonde said. "He got a pretty good grip on me and shook me around a bit.
Bonde was treated in a local hospital for deep cuts to his arm, although the young Dane – already perhaps sizing up the newsworthiness of his situation – managed to take a video of his wounds and post it on YouTube.
Crash landing
Bonde said he felt "stupid" and understood why the 2.5-metre long crocodile took a bite out of his arm.
"If somebody body-slammed me at night, I would be angry too," he told Perth's Sunday Times newspaper.
New kind of sport?
Some media have since seized on Bonde's use of the term 'body-slammed', inferring that it must be a kind of new sport that Generation Z is filming on their phones.
"Danish backpacker bitten after 'body-slamming' Australian crocodile," reported the Guardian.
And Bonde has further entered into the spirit of the occasion by photoshopping a photo of Crocodile Dundee to remember the moment.