Business & Education
Immortalised in 'Pulp Fiction', this Danish-based guitarist started it all
---
This article is more than 7 years old.
Guitarist Link Wray was a legend amongst other musicians, who lived anonymously on a Danish island for the last two decades of his life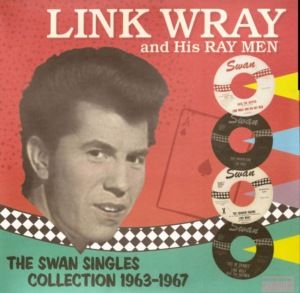 About 11 years ago this December, the funeral and burial of Link Wray, aged 76, the late husband of Olive and father to Oliver, passed relatively unnoticed at Christians Church in the Christianshavn neighbourhood of Copenhagen.
No underestimating his influence
Though the last couple of decades had been fairly normal for a man of his age, devoting much of it to his family, Wray was a cult figure amongst guitarists, one of rock music's founding fathers, the inventor of the power chord and the reason Pete Townshend of The Who gave for picking up a guitar!
As important to modern rock music's history as Chuck Berry and Jerry Lee Lewis, Wray grew tired of the cynical music industry at some point in the 1960s and found love instead in the arms of a Danish student of American Indian culture.
Born Frederick Lincoln Wray Jr on 2 May 1929 in the town of Dunn, North Carolina, Wray was himself part Shawnee Indian. With his band Link Wray and his Ray Men he introduced a completely new sound for the electric guitar, leaving the previous clean sounds and jazz chords behind to add feedback and distortion: the 'fuzztones' we now take for granted in modern rock music.
Ready to rumble
The band's most famous piece was 1958's 'Rumble', a powerful blues instrumental that was an instant hit when played live, which was eventually recorded for release at the urgings of record producer Archie Bleyer's daughter, even though Bleyer himself hated it. Originally called 'Oddball', it was the producer's daughter who suggested renaming it as 'Rumble' because it reminded her of 'West Side Story': with its menacing sound, it became perhaps the only instrumental record ever to be banned from several radio stations on the grounds of glorifying juvenile delinquency!
'Rumble' became a huge hit on both sides of the Atlantic, and Wray one of the most influential guitarists of his time. Not just Townshend but also Jimi Hendrix, Bob Dylan, Neil Young and Marc Bolan have all at some time or another cited him as an influence.
In the middle of the 1960s, Wray decided he'd had enough of the manipulations of the music industry and founded his own record company, recording discs in the chicken run of his farm in Maryland. Despite the pleadings of many of rock's biggest names for him to return to the fold, it was not until 1977 that Wray began to perform live again, when he started playing with Robert Gordon as part of the 'rockabilly revival' of that period.
Basking with The Boss
His comeback was to prove short-lived, and instead Wray opted to spend more and more time in Copenhagen: one reason being to visit his good friend Billy Cross, a fellow American guitarist who moved to the city in the '70s. This link with Copenhagen gave rise to an appearance onstage with Bruce Springsteen in 1988 here, the recording of an album, 'Indian Child', and a collaboration with one of the country's biggest bands, Sort Sol, on their record 'Flow My Firetear'.
By this time Wray had met and married Danish woman Olive Julie Poulsen, had fathered a child, Oliver Christian, and moved to one of the country's many small islands where he lived the life of a virtual recluse for many years.
Revived by 'Pulp Fiction'
However, this seclusion appeared to have been broken in the 1990s with a return to touring in the States, enthusiastic enough to put many of rock's younger names to shame. His revival in popularity was undoubtedly helped by the use of his songs on numerous film soundtracks, the most well-known of which was 'Pulp Fiction', which featured no less than three of Link Wray's compositions.
Despite his return to the stage, Link Wray died of heart failure on 5 November 2005 and was laid to rest in the country he had chosen to call his home some 20 years before.