News
More bikes than cars in Copenhagen city centre
---
This article is more than 7 years old.
For the first time since 1970, more commuters are using two wheels than four in the heart of the capital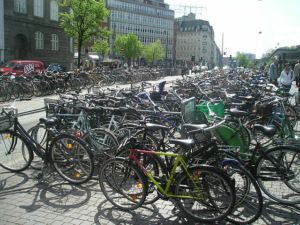 The authorities in Copenhagen have been measuring the traffic coming in and out of the city centre since 1970.
For the first time since records began, the number of bicycles is now exceeding the number of cars. This year, 252,600 cars entered the centre compared to 265,700 bikes.
The number of bicycles has increased by 35,080 since last year – a 13 percent rise.
Back in 1970, just 100,000 bicycles entered the city centre compared to around 340,000 cars. And by 2000, the number of bikes had risen to 170,000 compared to 320,000 cars.
According to copenhagenize.com, 41 percent of the commuters to the city centre arrive on a bike, 27 percent via public transport and 26 percent by car.
Investment paying off
Copenhagen has made significant investments in cycling, with more than 1 billion kroner being poured into infrastructure projects including 17 bicycle bridges that give cyclists easy access to the city centre without having to compete with vehicular traffic.
However, while there has been an increase in city centre cyclists, the number of bicycle journeys in the Greater Copenhagen area has been static for the last 20 years, and bicycle use in Denmark as a whole has declined slightly in recent years.