News
Danish PM taking part in Paris terror attack commemoration
---
This article is more than 7 years old.
Lars Løkke Rasmussen will also discuss a number of other issues with Francois Hollande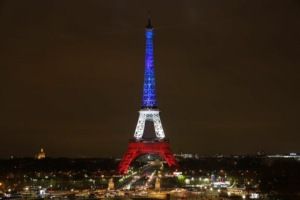 Lars Løkke Rasmussen travelled to Paris today to meet French President Francois Hollande and take part in the one-year anniversary commemorations for the victims of the gruesome terror attack in Paris last year.
The Danish prime minister will take part in the memorial at the Place de la Republique in Paris, which will pay tribute to the 130 people who lost their lives during the attack on 13 November 2015.
"In recent years, France has suffered several ruthless attacks on the free and open form of society," said Rasmussen.
"And I will utilise my visit to underline that Denmark will stand shoulder to shoulder with the French in the battle against the dark power challenging our way of life."
READ MORE: Midnight in Paris: Fragile paths of solidarity and antagonism
EU in the balance
Aside from the memorial event, Rasmussen will also discuss a number of issues with Hollande, including the fight against the Islamic State (IS), the Russia/Ukraine conflict, the refugee situation and the future of the EU in the wake of Brexit.
Rasmussen also stated that Denmark's ability to remain strong allies with nations such as France hinges on a closest-possible connection with the European police co-operation Europol.