News
Danish PM speaks at German memorial day
---
This article is more than 7 years old.
Rasmussen follows in the footsteps of Jean-Claude Juncker and Angela Merkel,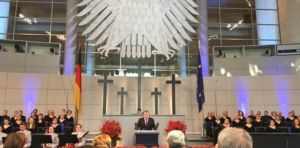 Yesterday, Lars Løkke Rasmussen became the first Danish prime minister to give the official speech on the annual German memorial day, Volkstrauertag, which commemorates victims of war, suppression and violent conflict.
Rasmussen spoke at Berlin's Plenary Hall and then visited the official memorial landmark at Neue Wache.
READ MORE: 'Mere te' Vicar?: Remembrance, rebellion and reconciliation
"I am honoured to have held the official speech on Volkstrauertag, an event that reminds us of the heavy cost of war," said Rasmussen.
"In Europe we have learned of the gruesome experiences from WWII and we have embraced reconciliation and co-operation. Our close co-operation is the foundation for the peace, freedom and welfare we have experienced in Europe for over 70 years. We must remain together to create a better world."
Former official speakers on Volkstrauertag include Jean-Claude Juncker, the president of the European Commission, and Angela Merkel, the chancellor of Germany.