News
Denmark's top Michelin star restaurant in hygiene scandal
---
This article is more than 7 years old.
Geranium fined and handed 'angry smiley' for keeping shellfish at too high a temperature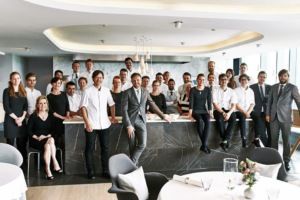 2016 started out so well for the famous Copenhagen restaurant Geranium. In February, it became the first Danish restaurant to ever earn three stars in the Michelin Nordic guide.
But now, as the year draws to a close, the elation has faded into scandal and embarrassment.
The food authority Fødevarestyrelsen has fined head chef and co-owner Rasmus Kofoed 20,000 kroner for slacking on hygiene, and the restaurant has been handed an angry smiley rating – an indicator of the lowest possible food standard practices.
"We regard it as serious that the company has over a long period of time kept shellfish at temperatures that were too high – and they knew they were too high," Martin Birk Hansen, a spokesperson for Fødevarestyrelsen, told Ekstra Bladet tabloid.
"The company has had knowledge that it has not responded to, and that tells us that the company isn't aware of the important temperature rules. The company first changed it when we asked them too. It should have happened immediately."
Geranium was storing its fresh shellfish in refrigerators with a temperature of upwards of 9.2 degrees – far above the permitted 2 degrees. Fødevarestyrelsen also criticised the restaurant for having dirty backrooms.
READ MORE: Denmark gets its first three star Michelin restaurant
Point taken … but
It's not the first time one of Denmark's top restaurants has hit the headlines for the wrong reasons. Last year, 12 guests became ill after eating at the d'Angleterre luxury hotel in Copenhagen, while 63 guests went down with an illness following a meal at Denmark's most famous restaurant Noma after an employee went to work despite being infected with the Norwalk virus, which directly causes viral gastroenteritis.
Head chef Kofoed has apologised for Geranium's lax storing procedures and said the restaurant immediately removed the fridge after it was informed by the food authority. However, he didn't concur with all the points.
"We take Fødevarestyrelsen's work very seriously, but in terms of the other points of critique that the authority has described, we disagree," Kofoed wrote Ekstra Baldet.
"So after receiving the control report, we have sent a complaint to the authority, which were are awaiting a response to."
[poll id="1″]