News
Government inks new tattoo law
---
This article is more than 7 years old.
EU measures taking too long, contends the food and environment minister, Esben Lunde Larsen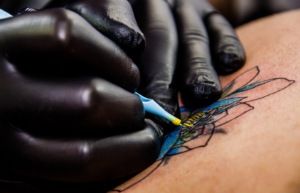 In a bid to protect Danes against harmful substances in tattoo ink, the government has launched a new strategy in co-operation with the industry.
In August, the EU announced plans for common rules across all its member states, but because it might take up to three years to implement, the food and environment minister, Esben Lunde Larsen, has decided to act now.
"Danes who decide to get a tattoo should be able to face the needle without fearing they might get carcinogenic or allergenic substances under their skin," said Larsen.
"So now I'm launching a national effort concerning tattoo colours that will also function as input into future EU legislation."
READ MORE: Danish youth jumping on dangerous tattooing trend
Needling the ink sinners
The Danish tattoo industry organisation, Dansk Tatovør Laug, has long called for more concise and clearer rules regarding tattoo ink and importers, and tattoo salons have been involved in developing some of the initiatives of the new Danish effort.
The new tattoo strategy is one of the components of the government's new chemicals package, for which 1.6 million kroner has been set aside over the next two years.