News
Arcade Fire to present new album at Roskilde Festival
---
This article is more than 7 years old.
Frank Ocean is coming to NorthSide and a Danish band will headline the stage at Parken for the first time in 36 years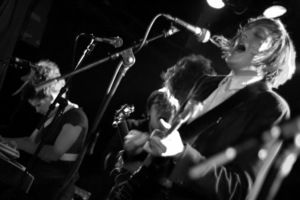 The Roskilde Festival has added 24 new names to next year's line-up, including the Canadian indie rock band Arcade Fire, the British synthpop duo Erasure, and the Danish noir-rock band Kellermensch.
Arcade Fire will return to the Roskilde stage after 10 years to play old hits and present songs from their new album that is due to be released in 2017.
Overall, the diverse line-up features bands from 10 different countries, including Solange and Blink-182.
Roskilde Festival takes place from June 24 to July 1 and tickets are already on sale. A festival ticket costs 1,995 kroner.
READ MORE: Roskilde Festival unveils one of its 2017 headliners
NorthSide finally gets Frank Ocean
The NorthSide festival, which annually takes place in Denmark's second largest city Aarhus, has also announced new names for its 2017 edition.
The line-up currently includes American R'n'B star Frank Ocean, Danish rocker Thomas Helmig, British indie pop band Bastille, Swedish soul-pop singer Veronica Maggio and the legendary Radiohead.
After years of fruitless trying, the festival organisers are excited to have finally succeeded in booking Ocean, who is making a comeback next year to promote his two new releases 'Endless' and 'Blonde'.
He is set to perform on the opening night of the festival, which takes place from June 9-11. Partout tickets cost 1,545 kroner.
READ MORE: Yorke got to be kidding! Radiohead coming to Denmark
Volbeat to headline stage at Parken
In related music news, Volbeat will next year become the first Danish band to headline a concert at Parken in Copenhagen since 1981.
The Danish heavy metal band will perform at Parken on 26 August as part of their European tour.
In October this year, the group played two concerts in Herning and at Forum in Copenhagen, which both sold out in ten minutes.
Tickets for their concert at Parken go on sale tomorrow at 09:00.