News
Why Copenhageners' parking habits are being monitored by drones
---
This article is more than 7 years old.
Commuter or resident, short or long stay, the city wants to know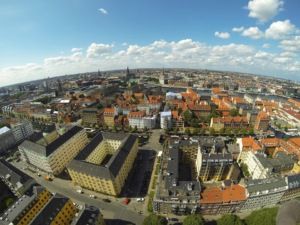 Ever feel like you're being watched? And then you turn around, look up and see somebody at a window.
That's your primal instinct at work. Either that, or you're a witch. Regardless, though, it's much harder to spot a drone.
Maybe you don't want to know, as these drones are monitoring your car-parking habits, and we all know how hard it is to parallel reverse in front of an audience.
The skies have eyes
In the week beginning November 21, drones operated by Teknik- og Miljøforvaltningen, the city's technical and environmental administration, monitored parking behaviour in the centres of the city districts of Østerbro and Vesterbro.
They followed the same flight path at the same time on three different days to establish whether it was the same vehicle in the space each time.
Parking life
The data from the drones will supplement interviews carried out with motorists regarding why and how often they use carparks and parking spaces on the streets of Copenhagen.
The administration wants to establish the demand for spaces from both residents and commuters, and to use the research to improve the use of carparks.
For example, would residents be prepared to park in a carpark a certain distance from their homes if they knew there was a guaranteed space for them every time.
Central Nørrebro, Amager and the Sankt Kjelds Kvarter – the area of Copenhagen just north of Fælledparken – are up next, starting in the week beginning on December 5.