News
Christmas is for kids – as long as they're over eight, decides Danish broadcaster
---
This article is more than 7 years old.
Denmark's annual julekalender TV series is a massive hit with young children, but they are being ignored by DR in favour of a show that targets teenagers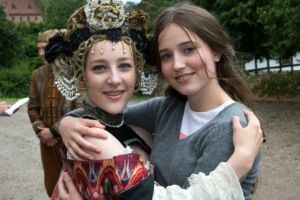 The trouble with the girl band All Saints was their target group. Unlike the Spice Girls, who had the pre-teens sewn up, they aimed older, so it was no surprise when nobody wanted to go to their concerts.
Their onstage gyration and sexual stimulation was too risqué, and the Appleton sisters spent too much time in bed with other musicians – so the parents kept their kids away, as did adolescents seeking to distance themselves from all girl bands and childish endeavours.
A bold move
A similar problem faces this year's julekalender, a children's TV series shown every single day in December up until Christmas Eve.
READ MORE: The holiday tradition that's best enjoyed on the sofa
DR1 and TV2 take it in turns to make a new one, and DR1 has this year decided to aim its show at the tricky 8 to 16-year-old market.
Given that the show tends to be most popular with children aged four to 12, it appears to be a bold move.
Shocks and snogs replace slushy snowmen
DR1's coming-of-age drama 'Den Anden Verden' (the other world), which starts tonight at 19:30, is a modern retelling of the Snow White story and other Brothers Grimm classics, and it comes complete with adolescent love content and plenty of shocks (see trailer below).
READ MORE: Denmark's ultimate family show faces blue word storm
Overall, it's a more polished production than normal with lots of special effects, and two of the three writers have lots of experience writing for the teenage market.
But is it at the expense of the julekalender's most ardent fans: the under-eights?
Old hat for young crowd
"It's a more expensive production than in previous years," Andreas Hjortdal, one of the producers of the show, confirmed to CPH POST. "For example, 'Tidsrejsen' (time travel) in 2014."
Hjortdal is confident that ignoring the under-eights won't be a problem.
"We've made sure there's a julekalender on DR Ramasjang they can watch," he said. The show in question, 'Nissebande i Grønland', which starts tonight at 17:00, was originally broadcast in 1989 – so old hat for the young crowd this year.
"Uncool" to watch it!
However, the majority of the 16-year-olds CPH POST spoke to said they had no intention of watching 'Den Anden Verden'. The general consensus was that it would be "uncool" to interrupt a conversation about 'Game of Thrones' with a question about last night's julekalender.
"I don't want to watch the julekalender because I'm not 12 anymore," said Tenna Jensen, a 16-year-old from Ishøj. "It's uncool to watch it, and mainly for young kids. I don't understand why DR1 has set the age group at 8-16."
"It sounds childish and doesn't interest me," added Lærke Juhl, a 16-year-old from Jyllinge. "I stopped watching the julekalender when I was 12 – doesn't everybody?"
Renée Skov and Narila Strand, also 16, who are both Hvidovre, were also certain they wouldn't be watching.
Tradition will live on
However, CPH POST was able to find one 16-year-old prepared to give it a chance. "It is a tradition to watch it in my family, so I am going to watch it," said Louise Reinø from Søborg.
Since first screening in 1962, several generations of Danes have grown up watching the program, and many parents are expected to tune in with their children.
But for those with kids under the age of eight, they'll have to look elsewhere this year. They say Christmas is for the children, but apparently in DR1's case, not for the under-eights.
READ MORE: At Christmas, when expectation is everything, the waiting is almost over