General
The location may have changed, but the special atmosphere is the same
---
This article is more than 7 years old.
And now the good people of Copenhagen can reopen their hearts to Restaurant Hercegovina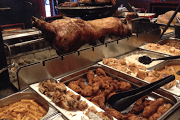 Is there anything better than goulash soup, live music and fine wine on a windy evening in Copenhagen? Didn't think so.
Experiencing a piece of Hercegovina in Denmark was not only mouth-watering, but a social and cultural experience that offers the perfect amount of indulgence.
When Restaurant Hercegovina opened its doors this year, it reopened the hearts of many guests accustomed to the restaurant being located at Tivoli for the past 30 years.
Now that Hercegovina has moved to the outskirts of Frederiksberg, the restaurant has established its own little corner with decorative lights that bring tranquility to the whole street.
The atmosphere took me to a part of Croatia that I never thought I would get the opportunity to explore.
With a belly dancer gracefully dancing around the restaurant in her white costume to the live music provided by an accordion player and guitarist, I was able to relax and experience a slice of life in the Balkans.
Melting meatballs
When we first walked in, we didn't really know what to expect. Immediately confronted by the appetising buffet, we were shown to our seats and offered a choice of two menus: the affordable buffet selection or slightly pricier à la carte options.
The Christmas buffet offers an array of Croatian specialties, including beef paprika with avjar sauce, air-dried, smoked tenderloin steak, fresh lamb, oksecarpaccio, cevapčići sausage, and prsut and cheese.
The food has such cultural diversity, there is something for everyone's taste!
I can safely say it is hard to go wrong here. My favourite dish of the night was the frikadeller med surt: meatballs that melt in your mouth and transform it with a smile.
To accompany our mains, we opted for the Graševina Daruvar, a fresh, refined white packed with flavour that proved to be a good match for everything thrown at us, from the meat and fish dishes, to the salads and pasta. But the real star of our experience was the rakija, Croatia's most popular for a good reason.
Try Maria's favourite things!
Along with the amazing food, what really made the night perfect was the manager Maria.
Attentive to her customers, she offers advice on what to try and which combinations work together, along with thoughtful conversation.
We spoke about everything from politics and American food to entrepreneurship, and she even offered advice in regards to education.
Dining in the company of Maria was like having a second mom with us, and the restaurant accordingly felt like a vacation spot.
She really enhanced our dining experience: the undisputed star of our night.
Here's a tip: if you know what's good for you, ask Maria for a dessert recommendation.
The fresh and fruity taste of the blueberry fromage was truly life-changing.
Coming to dine at Hercegovina was like escaping the real world and finding ourselves in a place where our tastebuds took centre stage. It was truly an unforgettable experience.