News
Danish pigs heading for Colombia as sustainable coffee goes in the opposite direction
---
This article is more than 7 years old.
The food and environment minister, Espen Lunde Larsen, is on the charm offensive in South America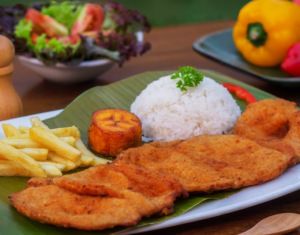 Next time you're sampling the local 'chuleta valluna' in Bogota or Medellin, you might very well be dining on Danish pork.
Colombia recently opened its doors to Danish pork and the food and environment minister, Espen Lunde Larsen, is currently in the South American country in a bid to strengthen trade between the two nations.
"Colombia is a nation experiencing significant economic growth and its population is demanding more pork that the country can produce itself," said Larsen.
"The country is also interested in increasing its own production and to be able to export in the future, so it is also calling for competencies that Danish authorities and companies have in these areas."
Despite Colombia's pork production increasing by 250 percent from 2001-2013, its import of pork increased from 8,814 tonnes in 2000 to 64,491 tonnes in 2013 – an increase of 632 percent.
Today, Colombia imports pork from three nations: the US, Chile and Canada. Meanwhile, Denmark exports food products worth 108 billion kroner every year – 29 billion kroner of which is pork.
READ MORE: Copenhagen the second most expensive city in the world to drink coffee
Sustainable coffee
While in Colombia, Larsen will also meet with the nation's cocoa producers in a bid to make Denmark's consumption of cocoa, coffee and palm oil more sustainable.
Colombia chops down 27,000 hectares of forest every year to make way for more agricultural land for coffee, cocoa and palm oil.
"Denmark's coffee and chocolate habits shouldn't be resulting in the Colombian rainforest being diminished," said Larsen.
"So the government has signed the Amsterdam declaration, which aims to halt the deforestation associated with the import of agriculturally-related goods.
According to an EU study from 2013, the import of crops such as soya, palm oil, coffee and cocoa by EU member states led to the global deforestation of 7.4 million hectares of forest from 1990-2008.
According to Euromonitor, Denmark drinks the seventh most coffee in the world per capita – 5.3 kg per person (consumption of 1.46 cups per day). And that comes despite the Danish capital Copenhagen being the second most expensive city to drink coffee in.