News
Danish aid worker voted world's most inspiring person
---
This article is more than 7 years old.
Magazine OOOM described Anja Ringgren Lovén as "a beacon of hope"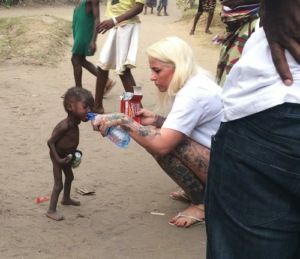 Step aside Barack Obama and Pope Francis, you've got nothing on Anja.
That's right, the Danish aid worker Anja Ringgren Lovén has been voted the world's most inspiring person by the magazine OOOM.
Lovén became famous after a photo of her giving water and food to a starving two-year-old 'witch boy' in Nigeria went viral and touched hearts of millions of people around the world.
"He was the size of a little baby, my whole body froze. I became a mother myself 20 months ago and I was thinking of my own son when I saw the boy," said Lovén.
"For me it became clear at that moment that I would fight with all my strength for him to survive."
The 38-year-old Dane brought the abandoned toddler to a hospital and gave him the name Hope.
In spite of many health issues, the boy later made an incredible recovery and currently lives in Lovén's orphanage in Nigeria.
READ MORE: Denmark remains an elite foreign aid nation
Pope didn't have a prayer
"Anja Ringgren Lovén is a beacon of hope and the most inspiring person of the year 2016," explained Georg Kindel, OOOM's editor-in-chief, who led the jury.
"When she saw the starving child, she acted like a human being and became an inspiration for millions."
The second place on OOOM's top 100 insipiring people list goes to the US President Barack Obama, followed by actress and activist Charlize Theron.
Pope Francis, Leonardo DiCpario, the Dalai Lama, Marc Zuckerberg, Malala Yousafzai, Bob Dylan and Elon Musk made up the rest of the top ten.
The 'OOOM 100' were selected by an international jury consisting of inspirational individuals such as Hans Ulrich Obrist, the artistic director of the Serpentine Galleries in London; Stefan Sagmeister, one of the world's leading graphic designers; and Gilles Massé from the magazine Wallpaper.