News
Copenhagen to test pavement tiles that collect rainwater
---
This article is more than 7 years old.
'Climate tiles' will primarily function as drainage but also irrigate greenery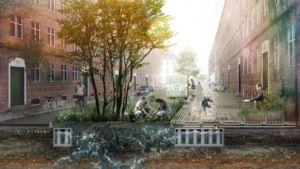 The Danish capital is planning to test a new paving tile system for rainwater irrigation that will effectively collect rainwater and reuse it for the irrigation of greenery in the area.
The tiles have been developed by Tredje Natur, IBF and ACO Nordic as part of the philanthropic organisation Realdania's campaign 'Klimaspring', which supports the development of innovative solutions for climate adaptation in dense urban areas.
The first tiles will be laid down on 70 metres of pavement on Heimdalsgade in Nørrebro by May and tested until the end of 2018.
READ MORE: Copenhagen wins international climate award
The tiles have holes of different sizes that navigate rainwater into an underground water management system that is both connected to the sewer and can supply small green oases with water and create a more enjoyable urban space.
The holes can also be mounted with street lights and with technology that measures the amount of groundwater.
In 2011, Copenhagen was hit by a massive cloudburst that caused major flooding, and since then other cities across the country have experienced similar issues.
The capital has recently been awarded a prestigious C40 Cities Award for the city's comprehensive management and protection plan aimed at preventing flooding.