News
Copenhagen wins international award for flood prevention
---
This article is more than 7 years old.
Sankt Kjelds Kvarter neighbourhood in Østerbro awarded Guangzhou International Award for Urban Innovation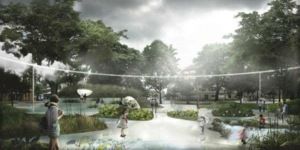 Copenhagen has been awarded the Guangzhou International Award for Urban Innovation for its cloudburst flood prevention of the Sankt Kjelds Kvarter neighbourhood in the Østerbro district.
Competing with 300 other projects from around the world in the 'Sustainable and Resilient Cities' category, the Østerbro project was chosen for involving its citizens in the development of the city and increasing its quality of life by creating new green urban areas.
"With the award, Copenhagen has been extended yet another compliment and international acclaim for our work preventing cloudburst flooding," said Morten Kabell, the city's deputy mayor for technical and environmental issues.
"The award also helps Danish companies – which have contributed to making the unique Copenhagen model for flood prevention – gain a foot in the door of the large Chinese market. Meanwhile, we are also generating new green urban areas and improving the quality of life for Copenhageners."
READ MORE: Copenhagen wins international climate award
CPH trail blazing
Along with the award, the Danish capital has been given 20,000 US dollars, which Kabell recommends will be spent on planting more trees in the neighbourhood.
Guangzhou International Award for Urban Innovation is a collaboration between the Chinese city of Guangzhou and the international city planner organisations Metropolis and UCLG.
Copenhagen's cloudburst prevention plan consists of 300 projects across the city. Last week, it was awarded the C40 Cities Award for its comprehensive management and protection plan aimed at preventing flooding and encouraging growth in the Danish capital.