News
Plenty of December gifts for Vestas
---
This article is more than 7 years old.
Orders landed in Australia, France, China, the US and Sweden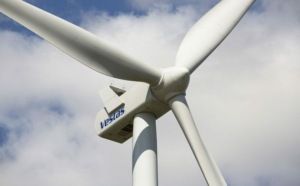 It looks like Christmas has come early for Vestas. At any rate, December has already offered up a number of strong deals for the Danish wind turbine producer.
After announcing an 180 MW deal in Australia on the last day of November, Vestas has notched up five more separate orders in China, France, the US, Sweden and yet another deal Down Under.
The latest order in Australia concerns a 270 MW deal for the Sapphire Wind Farm project located near the town of Glen Innes in New South Wales.
"The Sapphire Wind Farm is a big step forward for renewable energy in Australia, and we look forward to delivering a safe and successful project and further strengthening our relationship in the years ahead," said Gerard Carew, the head of sales and business development for Vestas in Asia Pacific.
The installation and commissioning of the project is estimated to be finished during the second half of 2018.
READ MORE: Vestas blowing off 350 jobs in Jutland
US and Sweden
Elsewhere, Vestas received a 101 MW order in the US consisting of V126-3.45 MW and V117-3.45 MW turbines. The delivery is scheduled to take place in 2017, and the project name and customer has not been revealed.
In Sweden, Vestas secured a 79 MW order with Eolus Vind AB, the Swedish firm's largest wind energy order to date.
The deal consists of 23 V126-3.45 MW turbines for the Jenåsen wind power plant in Sundsvall Municipality.
China and France
The wind turbine giant also secured an order for 40 V110-2.0 MW turbines from Titan Wind Energy for a wind energy project in Licun Town in the province of Shandong in eastern China.
Standing 137 metres, the turbines will be the tallest wind turbines in China.
Finally, the French energy firm EDF Énergies Nouvelles has placed three separate orders totalling 112 MW for the Champagne Picardie project, La Carnoye wind park and Bois de Belfays project.
The three wind parks are to be respectively located in the regions of Picardie, le Pas de Calais and Les Vosges, with delivery scheduled for the second quarter of 2017.
As of now, Vestas has delivered almost 300 MW to EDF Énergies Nouvelles in France.