News
Nordic research shows significant health benefits of cycling regularly
---
This article is more than 7 years old.
Hopping on the old iron horse reduces the risk of obesity, high blood pressure, high cholesterol, diabetes and cardiovascular disease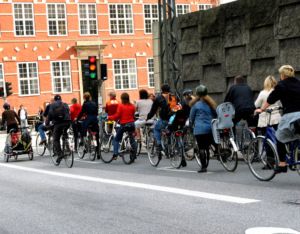 In a nation that prides itself on being the best in the world for cycling, it can still be tough to hop onto the bicycle to work with the arrival of the cold, dark mornings of winter. But here's some added motivation.
Two separate Nordic research projects have revealed the considerable health benefits gained by using the bicycle as your primary mode of transportation on a daily basis.
The Danish and Swedish research projects have unveiled that cycling on a regular basis reduces your risk of developing high blood pressure, high cholesterol, diabetes and cardiovascular diseases, as well as becoming obese.
"Cycling is health promoting, whether it's done as exercise or transportation," the studies' co-author Anders Grøntved, an associate professor and research head at the Department of Biomechanics at the University of Southern Denmark, told Videnskab.dk
"It's important information as we know that many people have a tough time finding time to exercise, and after all, it's easier to take the bike to work than finding time for the fitness centre."
READ MORE: Danish researchers advise weightwatchers to swap meat for beans
A healthier ride
In the Danish study, the cycling habits and other lifestyle factors of over 53,000 Danes aged 50 to 65 were assessed and then monitored for 20 years. The researchers registered the number of instances of cardiovascular disease among the participants across the two decades.
The study found that those who were still cycling regularly (about one hour per week) following the start of the study were 11-18 percent less likely to develop heart disease compared to those who weren't.
It also found that those who weren't cycling at the beginning, but started within the first five years of the study, were 26 percent less likely to develop heart disease compared to non-cyclists.
The Swedish study followed over 23,000 Swedes with an average age of 43.5 for a decade and found that, compared to people who didn't cycle, the cyclists had a 39 percent lower risk of become obese, 11 percent less chance of developing high blood pressure, 20 percent less chance of getting high cholesterol, and 18 percent less risk of developing pre-diabetes.
Grøntved contends that aside from the health benefits, cycling to and from work also has other positive effects, such as reducing traffic congestion and pollution.